Baileo Music Productions "Established 1998"
Live, recorded and commissioned
music production, independent record label.
Phone: + 31 318 50 55 49
Mail: henny@baileo.nl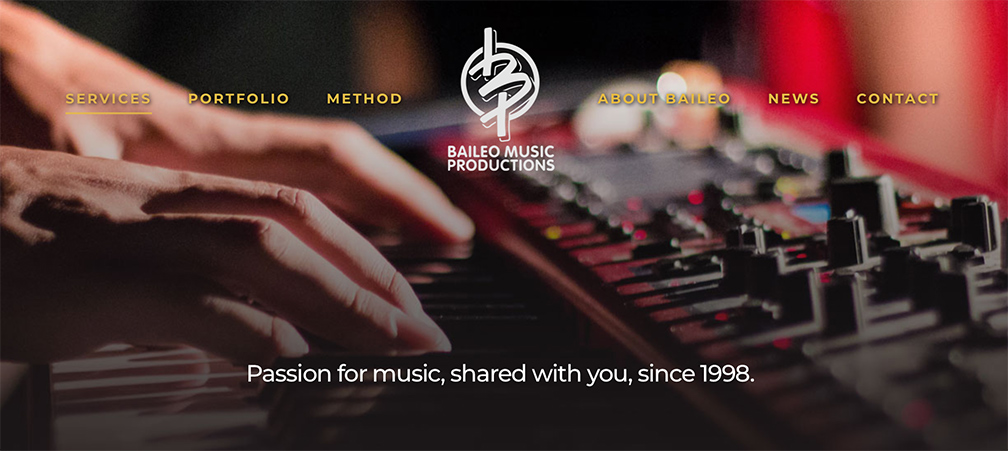 This is the music production company I started in 1998.
For over 20 years we passionately bring people together through music,
in live situations, through commissioned music and studio recordings.
 
Click here or on the photo to be linked to our website.
We thank these music loving customers for their testimonials:
Jumbo Supermarkets
Jeroen is a first-class musician who knows how to combine music and entrepreneurship.
It appeals to me that through Baileo Music Productions he has turned his hobby into his profession.
We have shared many wonderful moments together and I look forward to the many musical highlights that are still to come.
Frits van Eerd, CEO
Roosendaal Jazzfestival
With Baileo Music Productions we have experienced countless unforgettable evenings with magnificent artists as part of the Roosendaal Jazz festival.
With the concert of Gino Vannelli and The Metropole Orchestra in the De Kring theater for our 25th anniversary as one of the highlights.
There, Jeroen's passion, commitment, perseverance, and practical business sense came together perfectly.
Ronald Mekes, CEO Mekes Graphic Machinery BV
Singer Museum Laren
The Baileo team has proactively contributed their insights to the programming of the annual Laren Jazz Festival in Singer Laren for many years.
At the festival's request, the team applies their knowledge, network, and creativity to the planning in a constructive way year after year.
Jeroen's own performances with fellow musicians in the classic villa of Singer Laren are engraved in the memories of visitors to Laren Jazz.
Evert van Os, general manager